Skip to bottom page
In 2019, the Trust purchased a warehouse on George Street in Macclesfield. Take a look at our plans for the area and give us some feedback.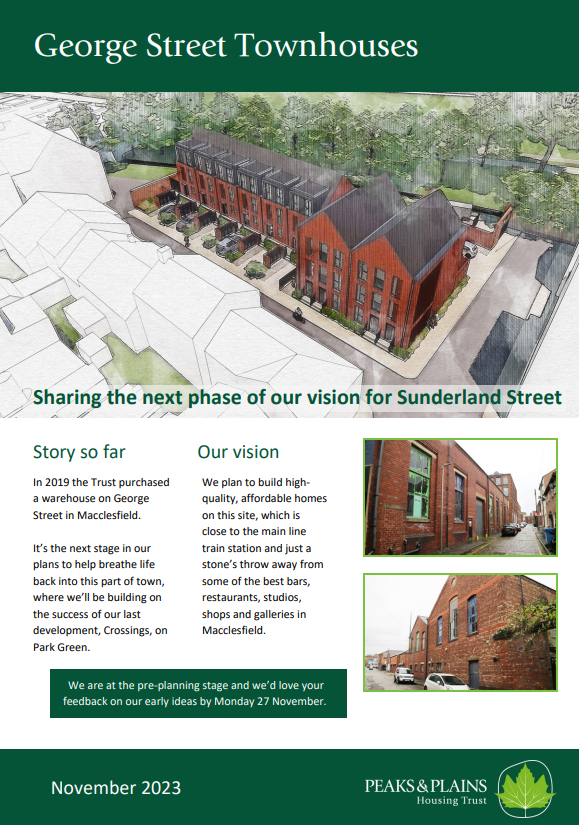 The story so far
Back in 2019, we purchased this vacant George Street warehouse (below).
It's the next stage in our plans to help breathe life back into this part of town and to build on the success of our last development, Crossings, on Park Green
Our vision
We plan to build high-quality, affordable homes on this site, which is close to the main line train station and just a stone's throw away from some of the best bars, restaurants, studios, shops and galleries in Macclesfield.
Our plans
Six 3-bed townhouses with 100% parking

Six 1-bed apartments with 30% parking

Great quality, safe, secure, affordable homes

A focus on quality, distinctive and characterful place making

Our homes will be for rent on an affordable tenure
Artist's impressions
Providing new affordable and sustainable homes
Our aim is to create a sustainable place for future generations. We are developing proposals for sustainable living which could be incorporated into the design of new homes. These include:

We are currently developing our plans and hope to submit a planning application in early 2024.
Share this content