Skip to bottom page
Changes to your rent from April 2021
Every year our tenants get a rent letter explaining any changes. This April, your rent will go up by 1.5%.
This year's rent increase will be 1.5%.
We have given the rent increase a lot of thought and discussed it with our Board and involved customers.
From April 2020 the government decided that we can increase tenants' rents by the rate of inflation, which is 0.5 per cent, plus a 1 per cent increase.
0.5% + 1% = 1.5%
Yes we do.
If we are to fulfil all our promises, keep our homes in good condition and keep them safe, we need to increase rents this year.
If we keep your rent as it is, we won't be able to deliver our promises and we will have to make some tough choices to either build less or not at all, to invest less and to do less in our neighbourhoods.
You can read more about our promises in our Strategic Plan.
• 5 March 2021 – You'll get a letter about the increase from us
• 5 April 2021 – Your rent will change
• 5 April 2021 – If you are on Universal Credit you need to tell them about the increase (see above)
• 5 April 2021 – Your new rent amount is due to be paid
Remember, that your rent is charged each Monday and is due in advance. Contact us if you want to check how much you should be paying, especially if you are paying 4 weekly or monthly.
income@peaksplains.org or call 0800 012 1311.
If you are in a rented property (not Shared Ownership) your service charges will increase by the same amount (1.5% in real terms).
This is in line with our Service Charge Policy. The policy states we will set charges appropriately to cover the cost of providing our services.
Your rent letter will tell you more. You'll get this at the beginning of March.
You can only update Universal Credit with your new rent charges from 5 April. 
1. Log into your Universal Credit account
2. Click on 'To-do list'. In your 'To-do list', there will be an option to confirm your housing costs. Click on this. 
3. Click 'yes' to agree that your rent has changed. If you have service charges and they have changed too, click 'yes'. 
4. Select 'yes', your housing costs changed on 6 April 2021.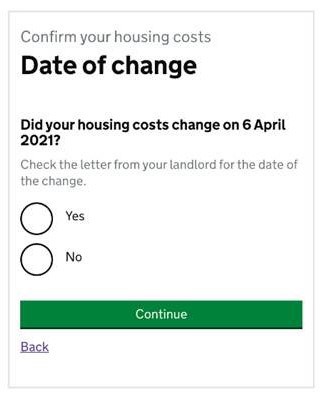 5. The next page displays your rent before 6 April 2021. Enter your new rent amount, and whether you are still paying every week for this. 
6. Repeat the process for any changes to your service charges.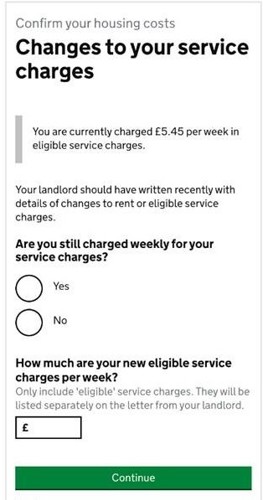 7. You will now see all your answers and you can edit any mistakes that you've made. Press 'confirm' when you're ready to submit the new information.
If you have any questions, you can email trust@peaksplains.org. 
No, we'll do this for you and we'll write to you sometime in March 2021 to explain how much you pay and when.
Ask your bank to change your standing order (or you can do it yourself if you use online banking). You need to adjust the amount that is sent to us by the frequency that you pay us.
Weekly - your new weekly rent amount
Fortnightly - 2 x your new weekly rent
4 weekly -  4 x your new weekly rent
Monthly - 48 x your new weekly rent divided by 12 monthly payments
If you have an agreement with your Income Officer to pay an amount off arrears, you will need to add this on to your payments to us.
If you're unsure what you need to pay, contact your income officer at income@peaksplains.org or call 0800 012 1311
If you pay monthly, you can pay the same each month by using the following calculation:
Rent X 48 charging weeks, divided by 12 months – this will give you the amount you need to pay each month.
The non-charging weeks are taken into account already using this calculation.
We have set out in our Strategic Plan what we want to achieve over the next few years. The money we get from rents help us to deliver our Strategic Plan. You can read more about our Strategic Plan here.
Each year we publish an Annual Review which states very clearly how we have spent your rent and how we are performing against the corporate plan objectives.
Our board and our 'involved tenants' also look closely at our performance and how well we spend your money.
Absolutely. The reason we are applying the rent increase is so that you will see benefits both within your own home – for things like routine repairs – and across the wider community.
We can't discuss your neighbour's tenancy with you, of course, but differences can occur because of tenancy type or the rental history of your home.
Your rent is calculated according to the rules set out in the Direction on the Rent Standard 2019, supported by the policy statement on rents for social housing.
If you are struggling to pay your rent, we want to help. We have a team that can give you advice on benefits, money management, and support you when things change in your life.
Alternatively, there is advice and support available from the local Citizens Advice.
What does per cent mean?
One per cent (%) is 1 divided by 100. So 2.7% is 2.7 divided by 100.
What is inflation?
By inflation we mean the Consumer Price Index (CPI). The CPI figure was announced by the government on 16 October 2019 and was 1.7%.
Share this content