Skip to bottom page
Complaints
When things go wrong we want to know so that we can look into the problem and put it right.
Here's what you can log a complaint about:
When we haven't met one of our service standards or haven't taken appropriate action in an agreed timescale

We've not acted the way our policies and procedures says we should to a customer request

If there has been poor conduct by us, agents or one of our contractors
Dealing with your complaint
We will respond within two working days with a solution.
Once you are happy with our resolution, we will record what has happened and use this feedback to improve services.

However, depending on the nature of the complaint an immediate response may not be possible or appropriate. If we need to investigate, the complaint will be logged as a formal complaint and dealt with under the "Investigation" stage of our process.
If you are not happy with the First Stage Resolution, the appropriate manager will contact you and be responsible for investigating the complaint.  

Certain complaints will not have a first stage resolution opportunity and these will be dealt with at the Investigation stage.

We will write to you if we are investigating your complaint within two working days. In the letter, we will explain the complaints process.

We aim to investigate and respond in writing within 10 working days. However, depending on the nature of the complaint it may take longer, if this is the case we will contact you and agree on a timeline.
If you are not satisfied with the response to the investigation, you can request for the complaint be reviewed.
The review is not a repetition of the investigation. The complaint will be reviewed when our complaints process has not been followed or there are elements of the complaint that have not been addressed.
We will confirm with you when a review is taking place.

A senior manager at the Trust will undertake the review. They will assess:
how the complaint was handled
how our policies and procedures were followed
how the issue has affected the customer.
If any failures are found with the way the complaint was investigated or dealt with, the review response will address these.

Our aim is to provide a final decision in writing within 15 working days. However, depending on the nature of the complaint it may take longer, if this is the case we will contact you to agree a revised timeline.

If the complaint cannot be escalated to a review and you are unhappy with the Trust's final response you'll be advised to seek an External Review.
If you want an External Review there are a variety of channels you can use. For example:
Your MP
Councillor
Housing Ombudsman
How we performed in 2018/19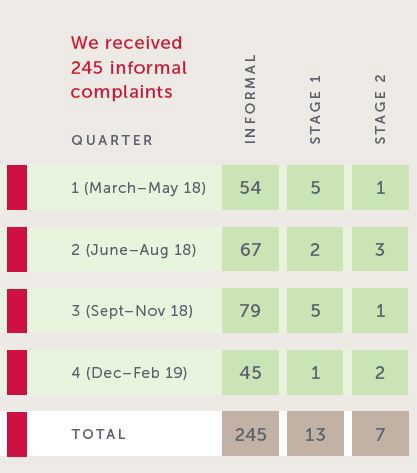 Repairs (82)
Asset Improvement (48)
Asset Cyclical Maintenance (27)
Estate Management (19)
Customer Experience (17)
New Tenancy (13)
Development (12)
Trustlink (11)
Income (7)
Neighbourhood (3)
Finance (2)
IT (2)
Tenancy Support (1)
Safer Communities (telecare) (1)
Assets (5)
IT (2)
Repairs (2)
New Tenancy (2)
Development (1)
Estates (1)
We received 31 compensation requests.

We paid out a total of £2705.88 in compensation and goodwill payments. The largest single payment was for £480.
We received 46 MP Requests for information. One complaint went to the Housing Ombudsman, which was later dropped by the customer. Their complaint had been resolved.