Skip to bottom page
We're offering over 55s free access to BeActive, a programme started by Anchor Hanover that aims to keep you mentally and physically healthy.
We've partnered with Anchor Hanover, a UK-wide housing association, to help give older adults an opportunity to improve their mobility and independence through low-impact exercises, podcasts, and tips to keep your mind healthy.  Once you've signed up, these free resources will be available through BeActive. 
You can check out the podcasts, access the video channel and find more information about the BeActive programme on their website.
What's involved?
As part of BeActive, you can take advantage of top tips and video content to keep you healthy. You can also have access to:
specially designed exercises, like yoga and movement to music
booklets, including step-by-step standing and chair exercises
a six week diary and timetable that helps you spend time looking after your wellbeing
online invitations to live workout sessions
diet recommendations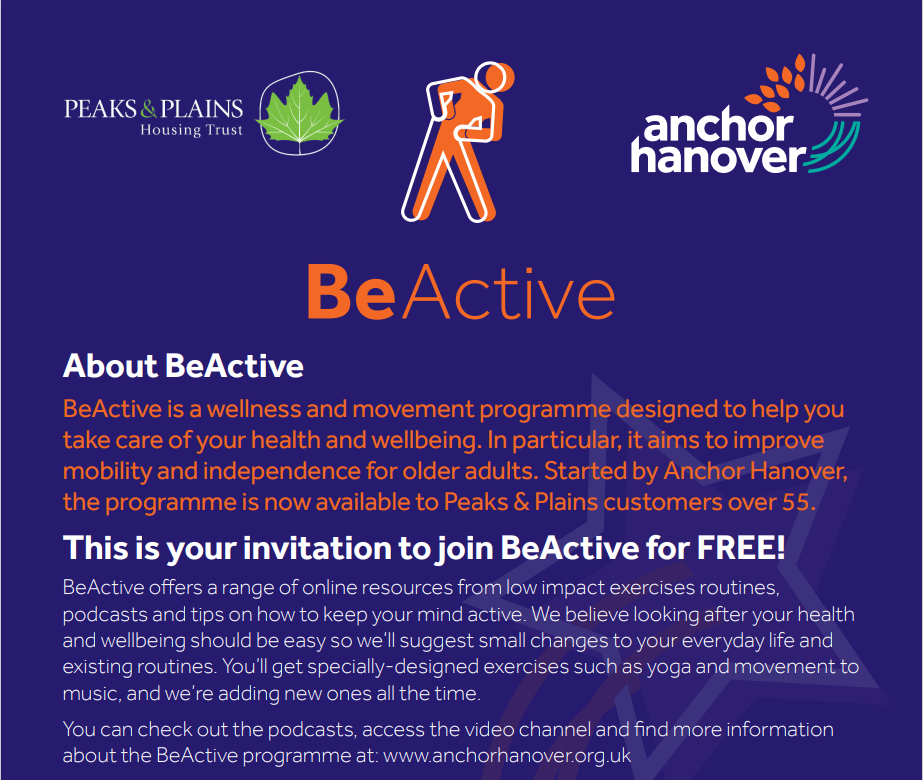 Get started
Fill out the form below and we'll post you a welcome pack with information on fitness and wellbeing. We can also post you a free T-Shirt - just let us know what size (S/M/L/XL) you need. 
This free programme is a pilot and there are limited spaces available.