Skip to bottom page
Dealing with your complaint
When things go wrong we want to know so that we can look into the problem and put it right.
We have a three stage complaint procedure:
We need to get back to you in three working days so that we can resolve the issue quickly. If we can't it
becomes a 'formal Stage 1' complaint.
We need to respond within 28 days.
At this stage, we need to respond within 21 days.
How we performed in 2018/19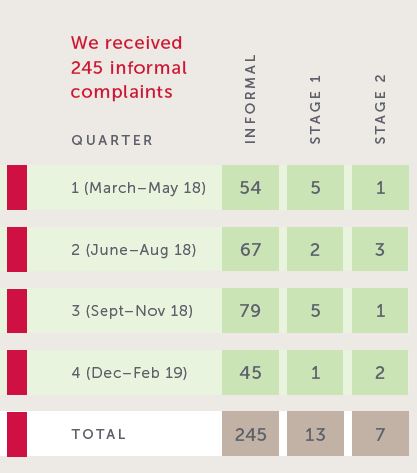 The informal complaints were focused on the following areas:
Repairs (82)
Asset Improvement (48)
Asset Cyclical Maintenance (27)
Estate Management (19)
Customer Experience (17)
New Tenancy (13)
Development (12)
Trustlink (11)
Income (7)
Neighbourhood (3)
Finance (2)
IT (2)
Tenancy Support (1)
Safer Communities (telecare) (1)
The formal complaints were focused on the following areas:
Assets (5)
IT (2)
Repairs (2)
New Tenancy (2)
Development (1)
Estates (1)
Compensation claims
We received 31 compensation requests.
We paid out a total of £2705.88 in compensation and goodwill payments. The largest single payment was for £480.
MP requests and Ombudsman
If your complaint is still not fixed we will refer you to your local councillor, MP or the Housing Ombudsman.
We received 46 MP Requests for information. One complaint went to the Housing Ombudsman, which was later dropped by the customer. Their complaint had been resolved.