Skip to bottom page
How to get involved
Getting involved gives you the chance to have your say about our services, as well as giving you the opportunity to tell us how we could do it better.
We're always looking for customers to get involved with us. Whether you'd like to get involved once or get involved on an ongoing basis, come to meetings or have your say from home, we've got an involvement method that suits you.
Then Challenge Group might be for you. The group discusses a range of issues and have involvement in the decision-making process to improve housing services for all.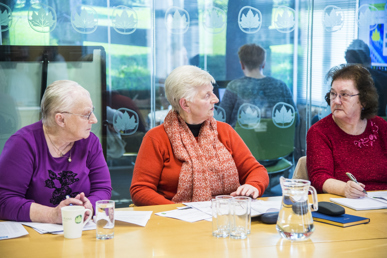 This group learns all about the Trust and how we do things as well as overseeing the implementation of actions and performance targets. The group meets every 6 weeks for 2-3 hours. All Challenge members receive training and have an agreed Code of Conduct which includes a commitment to respecting and understanding the confidentiality of the information they receive.
Not a problem, when we review our policies or make any significant changes we ask our customers for their feedback electronically, this forums the Digital Forum. For this type of consultation we use email and is perfect if you would like to get involved from the comfort of your own home or are unable to attend our other meetings due to work commitments.
If you would like to get involved you may be interested in taking part in a Scrutiny Review.
The Scrutiny Group's role is to independently look at the services we provide, gather customer feedback and make recommendations about how the service in question can be improved. We complete two reviews a year and you can get involved in one or all of the reviews.
Our Tenant Inspectors investigate how we can deliver good customer service. They do this by supporting the scrutiny group on service areas identified as being in need of improvement. During these reviews, the Tenant Inspectors gather customer feedback through phone surveys and mystery shopping. This is ideal if you would like to be involved but on an occasional basis.
The Plain Language Panel proof-read and approve documentation. This content will be emailed to you for your comments. All material needs to be reader-friendly and jargon-free to receive the Panel's seal of approval.
Good news, we're looking to recruit new members for our Challenge Group
If you're interested in joining our Challenge Group or would like some more information about the role, please complete our short form below. We will be in touch within five working days: