Skip to bottom page
We held a series of events early in 2019 to listen and understand what is important to you and how we can be better. We will be using what we have learnt to help shape our next steps to helping improve lives.
First of all thanks so much to everyone who came along to our sessions in Wilmslow, Knutsford and Macclesfield. At the end of 2018 we ran a campaign, encouraging each and every one of our customers to have their say.
These listening events gave us a chance to hear your views in a lot more detail and brought your feedback to life.
The activities that we organised started some really honest and helpful discussions that will help us to shape our Customer Charter, which we will be launching later this year.
If you would like to 'carry on the conversation' please use the form  below to sign up.
What you told us
Here's a summary of the things that mattered most to you.
Parking was a common topic. It's clear that you think that there is not always enough parking or that it could be planned and laid out in a better way.

Some people thought that permits were the way forward, others thought these made things worse.

Some residents worried about the access for emergency vehicles even where there are currently double yellow lines and the amount of people who park near their homes who aren't Peaks & Plains tenants.
Bins and rubbish collection are very important to many of you. Some suggested that communal bins might be better than many smaller bins.
While others were keen for us to encourage our customers to sort their rubbish so that it could be more easily recycled.

Wildlife and conservation were also mentioned. You challenged us to think about how we might consider wildlife when we build new homes or manage our existing ones (eg wildlife-friendly gardens).

Grounds maintenance was a key topic for many people. In particular, you voiced your dissatisfaction with our contractors.

You told us that in selecting our new contractors, we should be more rigorous in our selection process and, once we have chosen a new partner, we need to manage their performance more closely. It's clear that the contractor we have been using has not always shown the care and attention to detail that we would expect and which you demand.
We were asked to review the fire guidance at one of our non-sheltered buildings and our Fire Officer is satisfied that everything is in place.

You can find more general fire advice on our website.

You also asked us to find a more efficient way to carry out fire drills and to test our alarm panels in our sheltered schemes.
We need to find a way to do this without compromising on safety and of course, it's the law. So these checks will carry on every week.


Not everyone was complimentary about our online repairs system or the call queues they experience.
You wanted both of these ways of getting in touch to be much simpler and easier.
But many of you told us that when a member of staff visits your home you are pleased with their work.

Window cleaning came up too. Some said that the communal windows on blocks are taken care of but not the individual apartments.

When repairs are completed you describe them as 'good' and 'prompt'. A few people suggested that some issues hang around for too long, while others would prefer a faster response time, and this is something that we need to continuously re-examine and improve.
One message came through loud and clear. You would like us to deal more firmly with residents who do not stick to the terms of their tenancy agreement – or create problems in your neighbourhood.
With this in mind, thanks to everyone who took part in our 'Customer Charter' activity in which you were asked to sort and order priorities for the Trust and our tenants.
(Scroll down to see your top three for both.)

• Our website includes guidance on what you can do about anti-social behaviour 
When we get it right it doesn't go unnoticed. You gave us lots of positive feedback to take back to our teams. So thanks for that.

But you did tell us that you value continuity of service.
In particular, you like it if you can deal with the same person throughout your issue or repair.

It's clear that some people in our sheltered schemes are still adjusting to not having Trustlink Officers around. But you also had good things to say about the new provider, Astraline, and our Community Support Officer who carries out a lot of duties that we used to rely on Trustlink Officers for.
Some of your thoughts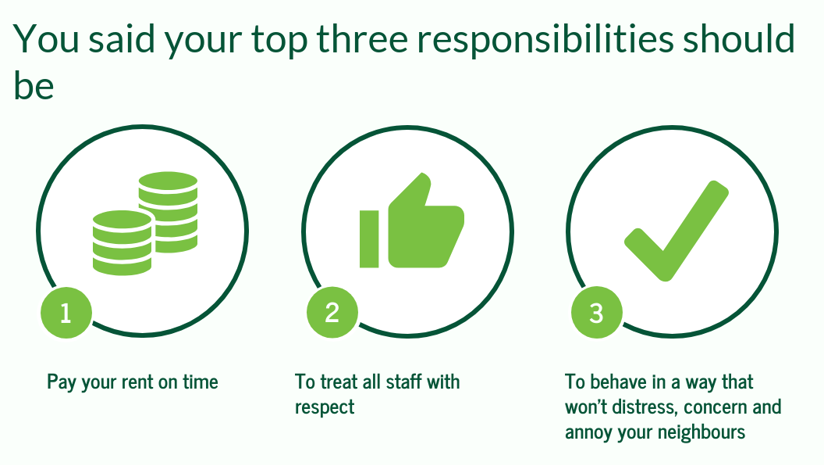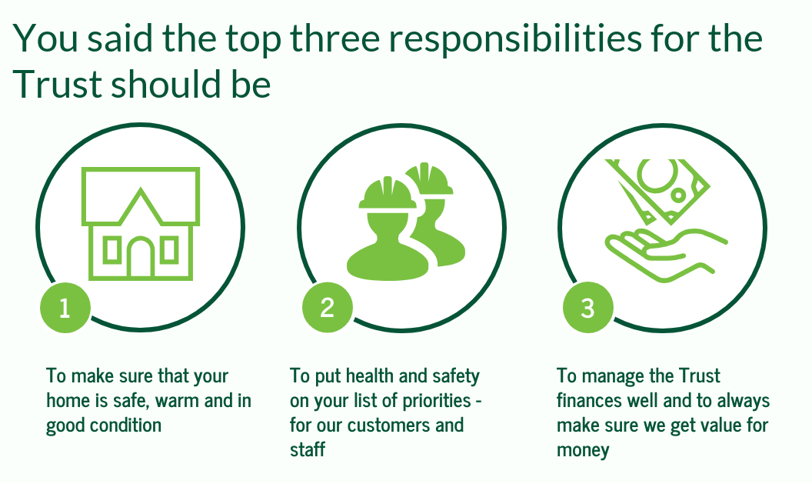 We asked you to think about what services you'd spend your rent on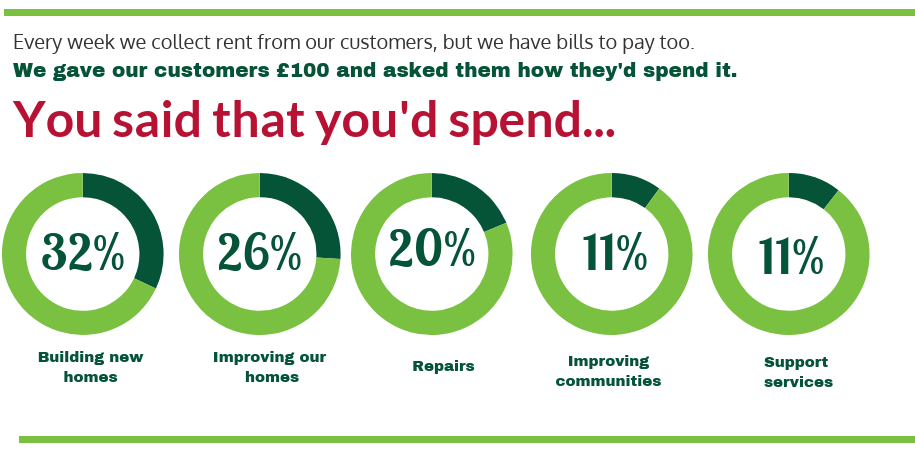 Pictures from the events
Our commitments to you
Based on your feedback we will:
Increasing the number of customer support roles in the business, helping people with complex needs and tackling ASB

Develop a Customer Charter to make it easier for you to see how we are performing and for us to make it really clear what we expect from our tenants.

Upgrade our customer data system so that we always have the most up-to-date information about you and your home - making it easier for all staff to be more consistent and clear when we speak to you.

Over the last 12 months we've spent £1m improving our fire prevention with a commitment for a further £1m this year

Come up with some clear principles for architects when we are planning new homes and neighbourhoods.

We've reached our third consecutive year having achieved 100% gas compliance

Launching a new customer satisfaction survey that will identify the root causes of where we can improve

Launch of a new website and a review of all our customer services to improve the way we do things

Provide more choice in the local housing market building more homes for sale or rent across Cheshire East and the High Peak.

Create homes in neighbourhoods that are sustainable, vibrant, well-connected and thoughtfully designed.

Invest £30 million in the upkeep of our homes between now and 2023

Play a central role in the regeneration of Macclesfield.

Investing in local young talent through an additional 10 apprentices

We will be appointing a new grounds maintenance contractor this year having selected from a large group of suppliers from across the North West
Useful links
Share this content