Skip to bottom page
All about Universal Credit
Universal Credit helps and supports those who need it. Find out what it is, how it works and how to apply for it.
Universal Credit (UC) is a benefit payment available to:
people who are in work and on a low income or,
those who aren't in work.
It replaces some of the benefits and tax credits you might be getting now or have previously got. Including:
Housing Benefit

Child Tax Credit

Income Support

Working Tax Credit

Income-based Jobseekers Allowance

Income-related Employment and Support Allowance
You will have to wait up to five weeks before your first payment.

Payments of your housing costs will be included in your monthly payment – you must pay your full monthly rent to us. Previously, Housing Benefit would have paid us. This is no longer what happens.

If you're in a relationship and live together, you're both entitled to claim UC, however you will get a joint payment into a single bank account.

There are no limits on how many hours a week you can work if you're claiming UC. Instead, the amount you get will gradually reduce as you earn more, so you won't lose all your benefits at once.

You usually have to make your claim online. This should be made as soon as you know you need to claim as Universal Credit cannot usually be backdated.

You can apply for an advanced payment. You will then have to pay this back through your ongoing Universal Credit. This payment will include an amount to pay your rent so when you receive this payment you should make a payment to us as well.

If you are entitled to Universal Credit you should also make an application to Council Tax Support from your local authority.  A payment towards your Council Tax is NOT included in your Universal Credit.
The date you make your claim will be the date you receive your payment each month. This is called your assessment date.

Universal Credit is paid monthly in arrears, so you'll have to wait one calendar month from the date you submitted your application before your first UC payment is made. This is called your assessment period.
You then have to wait up to seven days for the payment to reach your bank account.

This means it can take up to five weeks before you get your first payment.
It might sound a little confusing, here's an example of how it works:
•  Fred has lost his job and makes a new claim for Universal Credit on 22 July.
•  This makes his assessment date 22 July which means he will be paid on the 22 of each month.
•  He needs to wait one assessment period (that's a calendar month) to 21 August because Universal Credit is paid monthly in arrears.
• He also needs to allow up to seven days for the money to reach his account.
•  He should expect his first payment of Universal Credit no later than 29 August.
•  If 29 August is a bank holiday Monday, he should receive payment on the last working day (Friday) before the holiday.

If you do not think you will manage without a payment for this long then you should contact Universal Credit and ask them about an advanced payment.
It is paid monthly in arrears.
Universal Credit is made up of a basic allowance plus consideration of your situation e.g. housing costs, bringing up children, caring or sickness and disability.

The amount you get in Universal Credit can go down or up depending on what income you get from:

• working
• a pension
• other benefits
• savings and capital above £6,000.
Discretionary Housing Payments (DHP)

If the Housing Costs part of your Universal Credit doesn't meet your full rent, you may be entitled to extra help from the Local Authority.  This is called a Discretionary Housing Payment.
You will need to contact your local authority about this.
You need to raise this with your work coach when you make your claim.

You need to ask them to complete a Complex Needs assessment and you can request an Alternative Payment Arrangement (APA).
If your work coach agrees then payments may be made directly to us.
If payments are made direct to you, when do get the payment?

If payments are made direct to us, we do not receive the payment at the same time that you receive your payment.

When you receive your payment you will see that an amount has been taken off you to pay your rent (and possibly an extra payment for your arrears). 
This payment is then put onto our payment schedule. This is sent to us once every four weeks so it can mean that the payment to us might be some considerable time after you have been paid.

What will happen?  Will I get in more arrears?

Yes you will, however we understand how Universal Credit pay us. We will ask you to send a copy of your statement which shows how much you have been paid and how much has been taken out to pay to us. Once we have seen this then no further action would be taken, unless this payment is then not received by the Trust or payments stop.
If you haven't done one of the activities in your claimant commitment, you could be sanctioned.
This means your Universal Credit payments will be temporarily reduced.
The Housing Costs element of your Universal Credit should continue to be paid and you should continue to pay your rent with this.

If you are struggling because you have been sanctioned you can apply for a hardship payment to get emergency money for things like food and bills. 
Hardship Payments
A hardship payment is usually a loan, so you'll have to pay it back when your sanction ends. The Jobcentre will usually get the money back by taking an amount of money from your Universal Credit payment each month until it's paid off.
If you think you have been unfairly sanctioned you can ask the DWP to look at their decision again. This is called a "Mandatory Reconsideration".
At the Trust we have a number of foodbanks that we can refer you to if you do not have enough money for basic food items. These organisations are charities and we are restricted as to how many times we can refer you in a year.

If you feel you need help from them, please let us know and we will make your referral as soon as possible.  It can take them a few days to sort things out for you so it's very important that you let us know if you need help as early as possible.
As your rent is changing from 4th April 2022, you must update your rent details on your Journal.  You cannot do this until 4th April 2022. 
On the day that your rent changes:
1. Log into Universal Credit.
2. Click on 'To-do list'. In your 'To-do list', there will be an option to confirm your housing costs. Click on this. 
3. Click 'yes' to agree that your rent has changed. If you have service charges and they have changed too, click 'yes'.
4. Select 'yes', your housing costs changed on 4 April 2022.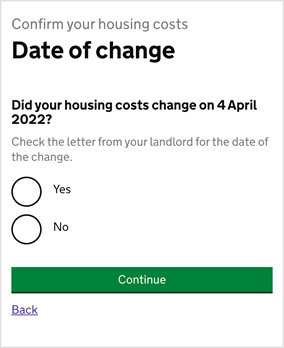 5. The next page displays your rent before 4 April 2022. Enter your new rent amount, and whether you are still paying every week for this.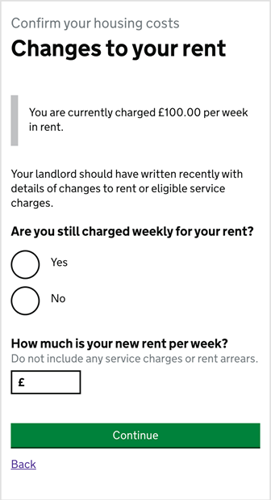 6. Repeat the process for any changes to your service charges.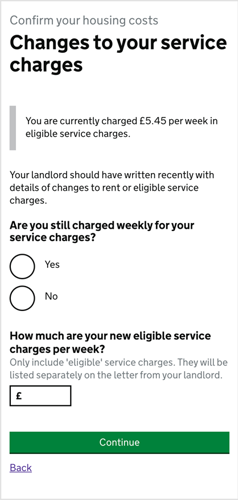 7. You will now see all your answers and you can edit any mistakes that you've made. Press 'confirm' when you're ready to submit the new information.
If you have any questions, get in touch with us via trust@peaksplains.org
Useful links
Share this content